Title punye la jiwang, tapi x tau la ape yg korang akan baca kat sini jiwang ker x.... hehehhehe... rasenye memang x jiwang langsung pon.... sbb blog ni bertemakan "suka ria" hhahahha.....
anyway, before proceed ngan tajuk ari ni... nak kasi korang tgk dulu.... pic of the day....( lepas ni korang kasi la name muke sape korang nak tgk kat blog ni.... tapi, utk kali ni... kite tgk dulu.....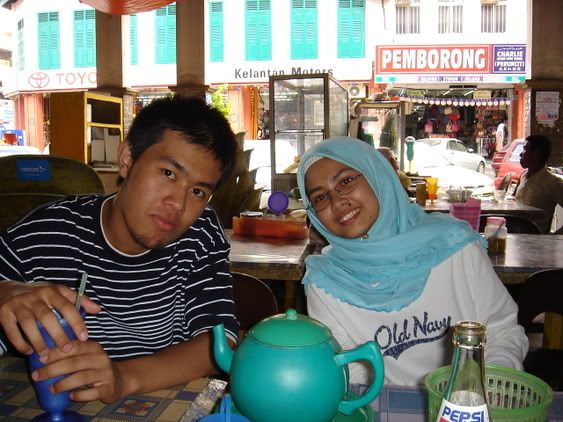 yani n faiz ................hanya kawan la.... dua2 single n available jugak....

Ok now... back to paris.... bnyk betul tempat kat paris yg wan bawak kitorang pegi jalan2....... kalau nak tunjuk semua gambar... memang naik bosan la tgknyer....anyway... kite start dulu ngan kawasan shopping street kat paris... lupe la name ape street tu.. (wan tlg komen), tapi kat situ memang tgh SALE giler!!!!!..... hehehe.. ZARA same harga ngan baju sekolah "Canggih" ( ade lagi ker Canggih skarang ni?) jerk cek yani...

belakang kitorang adalah butik LV........ malasla nak shopping kat situ... org ramai sgt....

... dgn kurang ajaq nyer kitorang selamba adidas jer ambik gambar kat betul2 tgh jalan yg tgh sebok semata2 nak ambil gambar Arch of Triumph dgn angle yg lawa......


Lepas tu... kitorang pergi ke eiffel tower... tapi memandang hari dah lewat n kitorang pon still penat, just pergi tgk jer dulu....decide nak naik hari keesokan...so.. just pergi usha dulu... cari jalan turun alternatif kot2 nanti lif x jalan ker.... tali panjang maner... yer la... eiffel tower ni dah tua beb... built in 1889 by Gustave.... height 320m.... so...bak kata wan... memang besi buruk la...

tapi, memang nak kata aper la,,, besi buruk ni amatlah wonderful.... tersergam indah diantara bangunan2 di Paris yg pendek2 semuanya....hehehehh

Erm... setelah habis berposing kat eiffel tower... kitorang ker Notre Dam De Paris.....
dah nak malam dah rasenye.... so... sempat la kitorang dgr loceng notre dam yg kononnya loceng yg paling berat kat kangar , perlis. memandang hari dah senja... kitorang hanya pose ala kadar jer... respek skit...hehehehehhe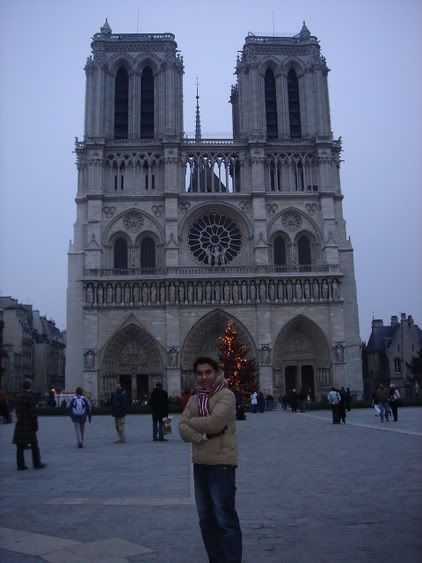 Notre Dam de Paris...... x nampak ke si hunchback tgk layan shisha kat atas tu?,,,

balik hotel n tukar baju baru... kitorang berangkat ker Moulin Rouge..... dinner ngan Maya, Lil Kim, Christina n Pink.....yess...percayalah....
Nak ambik gambar mase tgh makan kat dlm, tapi "no camera inside", so kitorang pon kensel la dinner ngan awek2 cun kat dlm tu.....so....kempunan la diorang.....hahahah padan muker.....

dr kiri: wan, abg najib, kak fidah, penulis, shida, syam...
Setelah penat seharian suntuk berjalan merata2 tempat mengelilingi paris... ( ade bnyk tempat yg x sempat nak mention.... Toilette...parit buntar... n bnyk lagi...), last destination kitorang ialah sacred heart.... nun jauh di sana, terletak kat atas bukit....ntah bukit aper tah....bukit bintang kot....hehhehe...

perhatian. sacred heart bukan la masjid walaupon ade kubah ....