From Moscow to Paris.
somewhere in paris.......

Friday, 27 jan 2006 flight from Moscow Sheremetevo 2 to Brussel International Airport....
naik aeroflot... the new aeroflot, bukan nye aeroflot zaman USSR .....
So, shida n I bertolak dr Moscow kul 10 mlm dr moscow, then sampai kat brussel airport dlm kul 12 mlm la.... semua kedai kat airport mase tu dah tutup, so tido la kat airport pada malam tersebut......
Kul
Kul 8 pagi kitorang bertolak ke Lille, naik train TGV (bullet train) dari Bruxelles MIDI..... laju giler train ni, bab kate zak, macam naik tikar terbang.... perjalanan ker Lille dr brussel, 30 minit jer....
..............ngan Wan kat Lille

around kul 830pg kitorang sampai kat Gare Lille Europe, ( gare=train station)
disambut oleh Wan, host kami di europe....hehehhe.....ribuan terima kasih ditujukan kpd Wan yg telah bnyk membantu kami.....dlm segala aspek...
anyway, back to our journey, kat Lille, kitorang rehat jap kat umah wan, pastu dlm kul 10 pg, kitorang gerak ke Paris , skali lagi, naik TGV,
dlm 2 hours jugak la perjalanan dari Lille Europe ke Gare De Nord Paris.....
wan tgh check metro map kat paris...

kalau x silap la, dlm kul 12 tgh hari, kitorang sampai kat bandaraya Paris....
Kat Gare De Nord, jumpe ngan Firdaus, member wan yg turut serta berholiday di Paris bersama2 kitorang......
sekali imbas, Paris ni, lebih kurang jer dgn Pasir Puteh Kelantan....
same jer, kedua2 city ni ade KFC halal.... betul x?
heheheheh...
kat Paris kitorang dok kat Hotel The Ritz.....5 star raseny2 kan Wan? ke 6 star wan?
hahahaha. then, after check in kat hotel kitorang yg mewah giler tu, terus kuar balik sbb nak gi lunch ngan member2 syazwan kat paris ni...

So, kitorang pergi ke stesen metro Opera.... jumpe la ngan Syam.... penduduk tetap Paris sejak beberapa abad yg lalu....


Honestly.... Paris is such a wonderful place to be at....
kalau compare ngan moscow la....hahahahha... actually, moscow pon hebat jugak, cume citizen kat sini jer yg membuatkan jadi foreigner kat moscow seseuatu yg kurang best.... maybe kalau rakyat russia bole belajar dari culture european country yg lebih sopan santun n menghormati tetamu, moscow akan jadi lebih hebat n maju dari Paris.... sorry ek budak2 France....
back to my journey.... so.... we all, 5 of us.... had lunch at a japanese restaurant....somewhere kat area M. opera la kot... hahaha,... we came all the way from moscow to paris to have japanese food....that's wierd....doesnt matter though sbb makanan kat situ best......
mase makan tu, kitorang plan nak jalan2 kat mane dulu, so keputusan diambik ; kitorang ke Lafayet dulu....utk shopping, katenye si syam.... hahhahahah....best2.
Tapi, kat lafayet tu...semua barang2 branded....memandangkan budak2 france dah masuk allowance...so happy la diorang melihat papan tanda SALE!!!! di segenap ruang, walhal, kami budak2 moscow, yg sampai skarang x masuk2 lagi elaun bln 2, telan air liur jer la.....
After that, kitorang pergi ke Museum Lourve, tapi just jalan2 kat luar sbb dah petang......hehehe... sempat la jugak bermain2 ngan burung2 merpati kat sane....seagull pon ade.... MINE, MINE, MINE, MINE...(mcm dlm citer Finding Nemo)...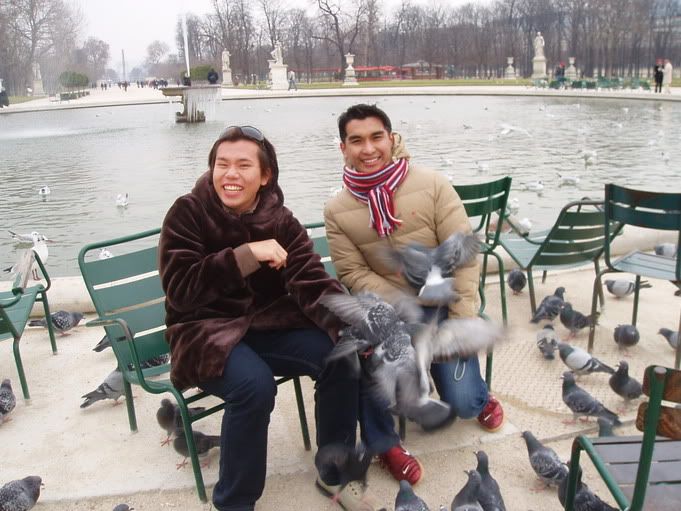 .....bersambung lain kali...hehehehhe